Occult Evolution
The true laws and principles of material and spiritual evolution
Occult science does not belittle the great contribution made by material science in unravelling the mysteries of life on earth, but it DOES aver that it cannot satisfactorily explain the origin of anything, least of all man, or the secret of Life itself, because its theories are incomplete. Occult science alone can supply the 'missing links' because it reveals the hidden Spiritual Laws and Principles upon which all material phenomena depend.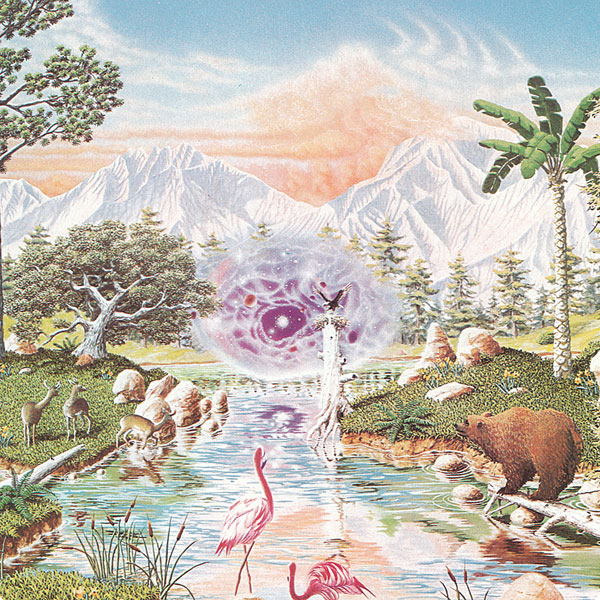 These Laws and Principles form an important part of the occult sciences, leading to a complete understanding of the Universe and our place and purpose within it. Do you ever consider what a miracle your body is? Or a tree, a flower, an insect, or even a grain of sand? If we examine a particle of sand under a microscope what complexity is revealed! A miracle—is it not? Now look at yourself. A body constructed out of trillions of tiny molecules, atoms and still smaller sub-atomic particles scientists are running out of names for! Each atom consisting of a sun with one or more planets in the form of electrons whirling around it at incredible speed. Are these atomic planets inhabited by beings like ourselves, with animals, trees and flowers, rivers, seas and mountains as you can see in the painting above? Why not! material science cannot prove it isn't true.
On the other hand—or we might say scale—may our solar system perhaps be a tiny atom in a body so huge that we cannot imagine it, any more than any inhabitants who may be living upon the surface of the electrons in the atoms in our body can imagine us? Why not! If the—to us—infinitely small is possible, why not the infinitely large? We would add that the terms 'small' and 'large' are only concepts of the mortal mind and have an entirely different meaning to the Creator; just as Time and Space cannot be properly understood by the finite understanding of the human ego. The Mystery School described elsewhere on our website teaches its students all the occult scientific laws pertaining to these questions, so that they may learn to see and understand, for and by themselves, what planets, atoms and human beings really are.
In The Golden Star (see review at left) we may read: "In the beginning of time the great invisible one had his hands full of celestial matter which he scattered throughout the infinity; and lo, behold! It became balls of fire and balls of clay; and they scattered like the moving metal into many smaller balls, and began their ceaseless turning; and some of them which were balls of fire became balls of clay; and the balls of clay became balls of fire; and the balls of fire were waiting their turn to become balls of clay; and the others envied them and bided their time to become balls of pure divine fire."
Occult science teaches that these particles of divine fire impregnated such particles as electrons, atoms and molecules and that each particle develops along certain lines which are most suitable to it. Thus each particle will attract other particles of similar propensities and grow into a minute cell. Several of these may attract other complex formations and join together in masses to produce a tiny bacterium, a mollusc, a sponge, and so on, all outwardly different but all containing the inner spark which gives them life and makes all life akin.
All these tiny creatures or formations, so small we cannot see them, will all grow in different directions and develop at last into a fish, a reptile, a bird, a mammal, and finally man appears. All coming from the same source, but growing out in different directions until such time as the divine plan decides to call a halt and presents the earth with a finished product of each kind. And the tiny sparks combining to form one vital principle—yet—each retaining its own individuality. This is the Darwinian theory of evolution with a difference, and no one can say it is not true!
An example of this is our own Solar System, of which the Sun is the lowest manifestation of the Logos as it acts as the centre of His Kosmos. It is the life-giving, controlling, regulative, coordinative, all-pervading central power. It reflects visibly the highest state of the Universal Presence, the Supreme Deity, and exhibits the first, or lowest, state of the seventh. For these reasons the Sun has stood as the symbol of the Creator in many of the ancient religions; this referring to the physical creation of the Kosmos in general, and, with man, to the earth and all that is in it, in particular.
Occult science teaches that the birth of Gods and men takes rise from one and the same Point; which is the One Universal, Eternal and Absolute Unity. In the sphere of objectivity and physics it becomes Primordial Substance and Force; male and female. In metaphysics it becomes the Spirit of the Universe, or Cosmic Ideation; sometimes called the Logos; who is the apex of the Pythagorean Triangle. It is these principles, and more, that YOU may learn through the study of occult, or hidden evolution taught by this Mystery School.