The Astral World
The real nature and conditions of the astral world
In The Golden Star we may read that: "communication between the Minds...of the departed is possible if the human being on the earth-plane knows how to reach out to the worlds where these Minds dwell between incarnations. But this is not for the average human being; and it requires strict training under expert guidance..." It is because the average seeker LACKS such training and guidance that we find so many contradictory statements about the 'astral world' made by psychics and clairvoyants.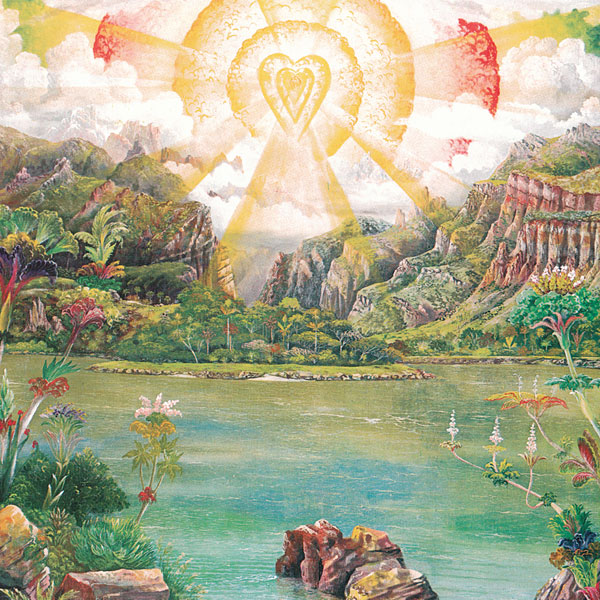 The subject of the Astral World has given rise to more misconceptions and misunderstandings than almost any other occult topic. The main reason for this is that most of those who can see the invisible planes that surround our physical earth lack the occult scientific training to understand and correctly interpret their visions. They, in turn, pass their personal interpretations of these visions on to others, who are not clairvoyant, who, in adding their speculations to what they think these clairvoyants meant, contribute to the mass of misinformation about the astral world in books and on the Internet.
One contemporary New Age source tells us that the astral world "is infinitely more real than the earth-plane, which is just inert matter without the enlivening powers of the up-holding astral world." We haven't the slightest idea what the writer means by 'inert matter', 'enlivening powers' or 'up-holding', but we can say categorically that this entire explanation is nothing but a farrago of utter nonsense! Whoever wrote it has never visited the astral world and knows nothing of the occult sciences. Such inane and misleading drivel can be found all over the Internet, and is the inevitable result of untrained observation and wrong deductions on account of insufficient knowledge (or complete ignorance) of the occult sciences.
Instead of the fantasies and speculations of mystery-mongers, we present you with nothing but facts on this and the other pages of this website. Facts which you can verify for and by yourself should you decide to take up the study of the subjects we discuss. Occult Science teaches that the astral world comprises realms or planes of finer or coarser material density than the physical plane we dwell in on Earth. 'World' should be interpreted both as a state of consciousness and an actual place. It further teaches that there are many such realms surrounding our Earth plane, each of which is an 'astral world', invisible to our physical senses.
We know of very few writers who have described the Astral World correctly, and it will be no surprise to learn that all were students of the occult sciences, and in two cases, genuine Initiates. These were J Michaud PhD and the 19th century occultist, H. P. Blavatsky, in whose books we find the truth and nothing but the truth, in contradistinction to the speculations and fantasies of untrained psychics.
Please do not imagine that these realms are vaporous and intangible, peopled by ghostly forms drifting about in bed sheets, or feathered angels trailing clouds of glory. Things in the astral world appear just as solid to its inhabitants as our Earth seems to be solid to us. We, on the other hand, seem to appear less tangible to the dwellers there. The actual appearance of these realms is much the same as this world. In fact, the conditions in some parts of the astral world are so similar to what we see and experience on Earth that should you ever visit these regions you would not notice any difference at all.
We find there regions of great beauty and magnificence such as Joseph Parker has envisioned in his painting reproduced above. There are other regions of unbelievable ugliness, squalor and misery, just as we know on earth. As the astral world is many times LARGER than the physical Earth it is impossible to give a comprehensive description of it. You can find very good descriptions of the highest parts of the astral world in The Golden Star by J Michaud PhD mentioned above, and in many other books written by GENUINE, TRAINED seers. We emphasise the words 'genuine' and 'trained' because, as we said earlier, there are many modern books that purport to describe the astral world which are simply figments of their authors' imaginations.
Who and what live in these astral worlds? There are three main classes of inhabitants. The first are the shells of departed human beings—the remnants of people—who, having refused all spiritual light, died so deeply immersed in materialism that the Higher Self or immortal Ego has only gradually separated from their sinful earthly personalities. Fortunately, most of these shells only survive the death of the body for a short time, gradually losing all consciousness of their previous human personalities as they disintegrate. It is these entities which are commonly contacted by those misguided souls who practise the modern fad of channeling which has led so many earnest seekers astray amd wrecked the lives of others. Channeling is simply 19th century spiritualism dressed up in new clothes.
The second class are the Higher Selves of men and women awaiting reincarnation on Earth. The more spiritually evolved such disincarnate Higher Selves are, the more refined and beautiful the astral region they inhabit. The greatest of such Beings are so glorious to behold and filled with such Love and Wisdom that many of them have been, and are, mistaken for 'Jesus' and 'Buddha', or even God and His Angels.
The third class are the elementals, which never evolve into human beings, but exist on a different rate of vibration as nature-spirits, each confined to its own special element, with which they are closely connected. There are elementals of the Air, Fire, Water and Earth. There are also flower elementals, tree elementals and so on, and so-called 'fairies' and 'elves' fall into this category. None of these beings can be seen by ordinary physical sight, but only by clairvoyant vision as you can read in The Golden Star.
This Mystery School teaches all the laws pertaining to the astral worlds and their inhabitants and how they may be contacted. In addition, each student receives special exercises to awaken and develop the hidden powers we all possess, so that they may explore and investigate the astral worlds in complete safety and fully understand what they see and experience there, which the average untrained 'psychic' does NOT.